The ICF Malaysia Reciprocal Peer Coaching program (RPC) creates opportunities for professional growth and is accessible to all members.
By coaching an ICF coach, you can receive coaching from another ICF coach.
The aim of the ICF Malaysia Reciprocal Peer Coaching program is to make coaching more accessible for coaches, thereby strengthening the ICF coaching community by supporting ICF coaches in their ongoing professional and personal development with the best means we know how — coaching!
Peer Coaching Program 2020/21
For Members of ICF Malaysia Chapter ONLY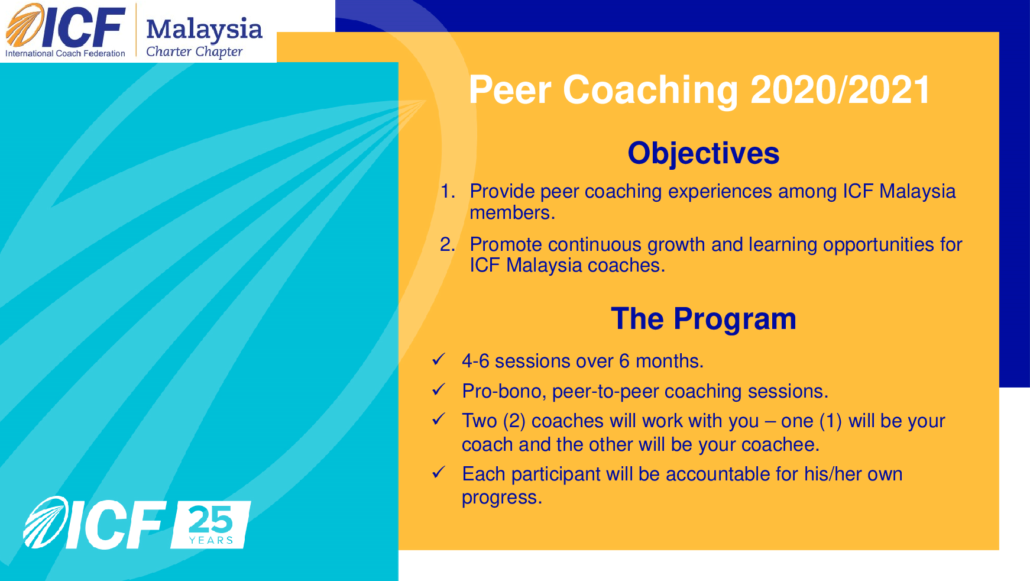 Reciprocal Peer Coaching will provide the following opportunities to you:
Receive feedback (and possibly testimonials) from peers/members/coachees.
Accrue coaching hours for your coaching log as peer coaching is deemed as an exchange of coaching services between you and peers, who are your coachees.
This process is similar to buddy coaching, but better because you never coach and get coached by the same person In addition, due to the size and caliber of the ICF coaching community and the simple flow of our program, you will receive just the right coach at just the right time if you would to keep an open mind and focus on the nature of coaching itself!
How does this work: –
Registration is NOW closed. Do come back to us on June 2021 for COACH A COACH Program.
Should you have further enquiry kindly contact Patricia, Events Director at +60123130546 or events@icfmalaysia.org.
Access this Coaching Reflection documents for your coaching session reflection.
An evaluation form will be emailed to participating coach(es) at the end of the program (18 May 2021).
---
Reciprocal Peer Coaching FAQ
How does this service help communicate a true value of the profession of coaching?
The goal is to make coaching more accessible to ICF Members as a means of continued professional growth. It is an exchange of value via coaching, instead of a monetary exchange. ICF is offering Reciprocal Peer Coaching as a professional growth tool; and by exchanging the value of coaching, ICF is making it more accessible.
How will ICF maintain high standards while implementing the program?
All coaches must be approved before they can participate. ACC, PCC, and MCC coaches receive automatic approval. All other coaches need to demonstrate at least 60 hours of coach-specific training (or for students/new coaches, just 30 hours is required to receive student approval).
What is necessary to enter into a Reciprocal Peer Coaching arrangement?
The service is open to all ICF Members who have completed the requisite amount of coach-specific training. After approval, a coach must commit to coaching somebody else and being coached by another person in the system.
Can these hours be used to satisfy mentor coaching requirements?
The hours can be used as paid coaching hours but not as mentor coaching.
Does this take away from the business of ICF Member coaches whose clients are mostly other coaches?
ICF is offering this service for coaching, not mentor-coaching. Therefore, it should not overlap at all. In addition, because we cannot guarantee that you will get matched with exactly the coach you would choose if you were employing the coach yourself, leaving an opening for a surprise, it does not compete with the current coaching market.
What impact will this have on what coach-training schools require of students doing practice coaching?
The service is offered only to ICF Members, so it should not have an impact.