ICF Malaysia International Coaching & Leadership Summit Speakers
The ICF Malaysia presents the 2017 International Coaching & Leadership Summit Wednesday, 8 November.
Better Leadership with Coaching Culture!
The International Coach Federation's (ICF) local registered ICF Malaysia Charter Chapter is in her 12th year. We are proud to present the 3rd biennial Conference this November 8th, bringing together coaches, business leaders, human resource professionals, and all parties interested in leadership development across Asia Pacific as well as from other continents.
The conference theme is: Engage | Empower I Thrive
We are most grateful to have such a diverse and passionate group of speakers, to contribute a  transformational learning-experience with interactive content and actionable take-aways for our participants.
---
Dennis Reina – Ph.D & Michelle Reina – Ph.D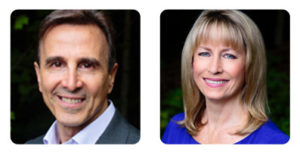 Dr. Dennis and Michelle Reina help leader transforms workplaces through trust to produce business results. How? We take the guesswork out of trust. Concrete, behavioral frameworks provide a common language for talking about trust, and assessment methodologies help people understand how their behaviors contribute to trust at the individual, team, and organizational levels. Our approach is systemic, holistic, and completely customized. We partner with our clients to co-create solutions for pinpointing their deepest trust-building opportunities.

We help clients hardwire trust into the organization so they can rebuild it when it is unintentionally compromised. We transform trust so people take ownership of the level and quality of trust in the organization. The Reinas clients include: American Express, Ben & Jerry's, Harvard University, Johnson & Johnson, Toyota, and Walt Disney World. Authors of two bestselling books, Trust and Betrayal in the Workplace, 3rd ed. and Rebuilding Trust in the Workplace.
Summit Topic: Rebuilding Trust®: The Key to Sustainability
Trust will be built and trust will be broken. It is a natural part of the human condition. Small but hurtful situations accumulate over time into the confidence-busting, commitment-breaking, energy-draining patterns consistent with broken trust.

No matter your vantage point, this workshop offers a proven seven-step process to heal pain and rebuild trust. This compassionate, practical approach will help you reframe the experience, take responsibility, forgive, let go and move on. You will feel safe to be more fully "who" you are and, once again give your organization your best thinking, highest intention, risk-taking and creativity.

– Understand the accumulative effective of small, unintentional ways trust is broken
– Realize that 90% of broken trust is unintentional
– Learn the seven steps for rebuilding trust
– Find out how rebuild trust is the key to sustaining trust
Experience Dennis and Michelle and their fascinating topic on November 8th!
---
The official ICF International Coaching & Leadership Summit Venue Partner –
Putrajaya International Convention Centre (PICC)
The Official ICF International Coaching & Leadership Summit Hotel –
Le Meridien Putrajaya  
All Summit participants will receive a preferred rate within the window of November 3rd through 12th, 2017.
This rate includes breakfast and the free shuttle to/from the PICC the day of the Summit.

INTERNATIONAL COACHING & LEADERSHIP SUMMIT
Engage | Empower | Thrive
Kuala Lumpur, Malaysia – Wednesday, 8 November 2017